Introduction
In the last few years, more and more applications of multimedia system have been deployed in telecommunication fields, both in circuit switched and packet switched networks. Since the delivery of digital media through broadband and wireless networks becomes feasible and popular, typically represented by 3G and VoIP technologies, communications among people from around the world are not only limited to speeches any more, but are extending to direct face-to-face vision. With the convergence of telecom and internet technologies and the devoloping of IP Multimedia Subsystem (IMS) and Next Generation Network (NGN), tremendous innovative multimedia applications like TV on mobile and live webcasting are coming forth every day.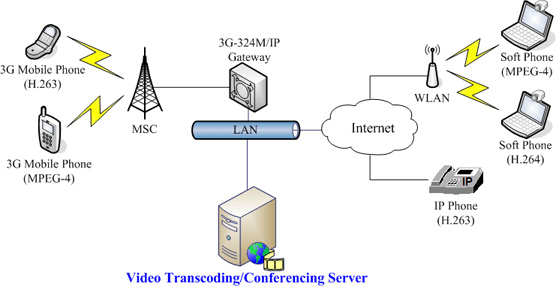 Among all these applications, inter-device media capability and reliability is always an important fact needs to take good care of. For there are now so many media formats of different standards of digital compression and transportation, such as G.7xx, AMR, H.26x, MPEG-4, and so on. Unfortunately, these formats are normally not fully but partially capable on our digital media devices like mobile phones, VoIP phones and handheld PCs. Two terminals with different media capabilities are like two men speaking different languages. They can't communicate with each other. For example, a 3G mobile phone of MPEG-4 capability will fail to establish a connection with another of H.263. In such case, video transcoding is a must.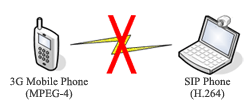 Products
IPVideoTrans (abbreviation "IPVT") provides real time video transcoding, surveillance and streaming software and solutions over IP network, supporting the whole series of commonly used digital media codecs, such as H.263(+), FLV, H.264/AVC, MPEG-4/Visual and MP3, AAC, encapsulated in RTMP, RTP (IETF standards) and MPEG-2 TS (ISO/IEC/ETSI standands) protocols.
Real Time Video Encoding / Transcoding Software

IPVT's video transcoding server can stream multi-channel, high density media contents from movie file clips, webcams, TV capture / tuner cards and 3rd party media streaming servers (Windows Media Service, Adobe Flash Media Server, Wowza Media Server, etc), to internet audience through RTMP, HLS or RTP, with transcoding on the fly. To adapt to various internet streaming requirements of different end-user devices like PC, iPhone, iPad and Android smartphones, IPVTL provides full solutions of stream reshaping, including frame size changing (trans-sizing), frame rate altering and streaming bit rate upscaling /downscaling (trans-rating).

Real Time Video Surveillance

IPVideoTrans provides video server product to capture live video from video input devices, such as web cameras and digital camcorders. Live video is encoded into Adobe Shockwave Flash (SWF) objects or RTSP streams, which can then be published to internet visitors through HTTP or RTSP protocols.

P2P Video Conference

A web based P2P video chat and sharing system with high efficiency, that enables users to communicate with 15 friends max from around the globe at the same time. You can have video chat with your friends, share with them your favorite pictures, videos and even your desktop.
Benefits
Low cost, Easy Configuation & Maintenance

Compared with other hardware video processing devices costly to deploy and maintain, IPVT's products are software programs that can be run on any PC box, in either Windows or Linux platform. With easy-to-use configuration interface, even beginners can setup video streaming channels with transcoding in minutes.

High Integrability

Besides IPVT software products ready to use, we also provides full SDK on media streaming / transcoding. Functions like video transcoding and web video conferencing can be quickly integrated by 3rd manufactures or developers into their own production.
Scalability
The CPU / GPU computing performance and the video encoding profile decide the capacity of simultaneous transcoding / streaming. Video encoding profile includes video codecs, video resolution, image quality, frame rate & bit rate, etc. Roughly, a single computer with Intel uni-core desktop processor running @ 3GHz or same class is able to process 20-30 MPEG-4 streams of QVGA size simultaneously, while a high end server with Intel quad-core Xeon® processor can do 20-30 channels of H.264 standard definition.
Scenarios
IPVideoTrans's products typically apply to:
Cable / Satellite digital TV Streaming / Broadcasting
Video Monitoring / Surveillance
Live Events Webcasting
Web Based Video Conference
3G-324M / VoIP Media Gateways
IP-PBX / Soft Switches / Media Proxy Servers
© 2009-2015 IPVideoTrans.com All rights reserved.