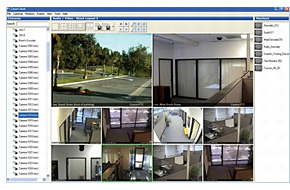 IP Video Surveillance Live! (abbreviation IPVSL) is a real time video server program that can be run on Win32 operating system with high performance. It captures live video images from input devices such as web cameras and digital camcorders connected to your PC through USB or IEEE 1394 firewire interface. Encodes them into Adobe Shockwave Flash (swf) streams or RTSP streams in H.263, H.263+, H.264 and MPEG-4 (IETF standards RFC 2190, RFC 2429, RFC 3984, etc). These streams can then be published to the internet, viewed by remote IE/Mozilla web browsers (webcasting) or RTSP players like VLC.
With the html source code provided in IPVSL web server edition, you can embed the video swf objects into the pages of your website to deploy online video surveillance application easily.
Specification
Input Devices Supported
USB web camera (YUY2, I420, MJPG Image)
Digital camcorder (DV) with IEEE 1394 interface
Output Stream Encapsulation
SWF (Adobe Shockwave Flash)
RTP (Real-Time Transport Protocol RFC 3550)
RTSP (Real Time Streaming Protocol RFC 2326)
Codecs Supported
Adobe Flash Video (Web Edition)
Motion JPEG (Web Edition)
H.263 (RFC 2190)
H.264 (RFC 3984)
MPEG-1 Video
MPEG-2 Video
MPEG-4/Visual (RFC 3016)
Output Video Resolution
SQCIF (128x96)
QCIF (176x144)
CIF (352x288)
4CIF (704x576)
QVGA (320x240)
VGA (640x480)
Custom/User-specified (H.263+/H.264/MPEG-4)
System Requirements
Processor: 2Ghz or higher (The higher the better. Multi-core CPU recommended.)
RAM: 1GB or above
Ethernet NIC
OS: Microsoft Windows® 2000/XP/Vista/2003 Server
Web camera or digital camcorder (Microsoft Windows® compatible)
Getting Started
IPVSL is very easy to use. Before start webcasting, make sure your webcam or DV is properly connected to your PC and is well functional. Normally you can check this using image previewing in Windows Explorer in Windows XP. If the device works fine, you can then run IPVSL and click Start Server button. After the status light (

) in IPVSL switches to red (

) and the button text changes to Stop Server, the video server is started and is waiting for remote connecting.
Validating
If you are using IPVSL web server edition, you can click Test Page in Browser button to open the demo html page in your IE or Firefox web browser. If everything is OK, you should be able to watch live video from your webcam in the browser.
Or, if you are using IPVSL streaming server edition, you can copy the RTSP accessing URL (rtsp://xxx.xxx.xxx.xxx:554/rtsp) from IPVSL. Then open an RTSP media player like VLC (

http://www.videolan.org/vlc) and paste that URL into the source address to play. If everything is OK, you should be able to watch live video from your webcam in the player.
Advanced Settings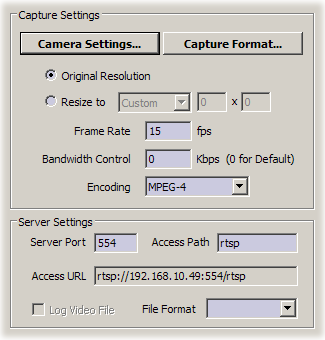 Camera Settings
You can adjust your webcam device settings like source, luminance, contrast, white balance, etc. (Note: These camera configuations are provided by device driver and differ on device types.)
Resolution
Specifies output video frame resolution.
Frame Rate
Specifies output video frame rate. Default to 15fps.
Bandwidth
Use this to make control of the bandwidth of output video stream if you require. Leave it to 0 if you don't care.
Encoding (RTSP Server edition only)
Specifies output video encoding. If you need to change video encoding, please make sure that encoding is supported by your RTSP player first.
Server Port
Specifies the network port for the server to listen on. Default: 80 for web server and 554 for RTSP server.
Access Path
Change this path to customize the accessing URL if you need. For example of streaming server edition, if set to camera, you should play video at rtsp://xxx.xxx.xxx.xxx:554/camera instead.
Note: After changing settings, restart IPVSL to make effect.
Troubleshooting
IPVSL starts and stops immediately (Status light quickly switched back to red). Why's that?
Looks like the server starts failed. Please make sure your camera is connected to your PC correctly and is well functional. Also check the camera IS NOT occupied by some othe applications. Most web cameras don't allow to be opened by multiple applications at the same time.
IPVSL web server edition starts successfully. But I can't see video in the web browser.
IPVSL web server edtion uses Adobe Shockwave Flash object to play video in web browser. Please make sure the Adobe Flash Player ActiveX/plugin is installed in your system. Refresh the page if needed.